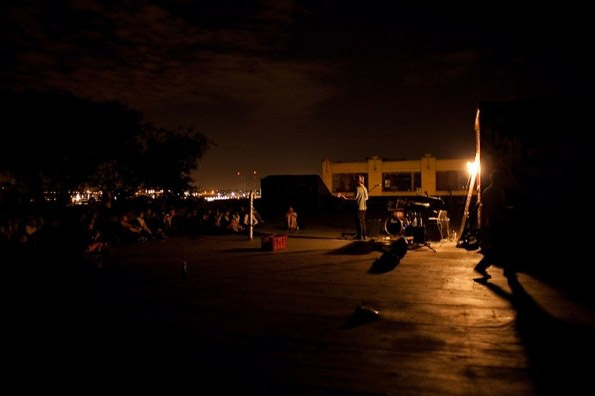 * * *
How to Look at the Ocean (Now I am a Flower)
Selection of music:

The Seashells Speak to Mother
Dancing Seashells
The Wrinkler


How to Look at the Ocean (Now I am a Flower) is an opera featuring a 7-piece chamber ensemble, 4-part chorus, 4-piece bar band, 8 actors, electronic music, and video. The opera premiered at Bard College on December 13, 2008 and had a running time of 75 minutes. I revised the opera in July 2011. I estimate the revised version will have a running time of approximately 65 minutes.

The opera is made up of two stylistically opposite acts. Each act tells a similar story about growing up. Act One, subtitled "How to Look at the Ocean," is a poetically illusive account of a mother and son at the ocean together working through their troubled relationship; a god-like narrator, Leviathan, and a chorus of seashells tell the story of the mother and son. Structurally, Act One is made up of three pieces of music for chamber ensemble, chorus, and Leviathan. The music transitions from one piece to the next without pause throughout the entire first act.

Act Two, subtitled "(Now I am a Flower)," is a comedic music-drama about a young songwriter, Scotty, overcoming his self-doubts and meeting his musical hero, Shades McGlenn. This act introduces seven actors and breaks away from the flowing, contemplative tone of Act One; the music is sparse and interruptive, and the dialogue is often manic, confrontational, and impeded by non-sequiturs.

Premiered at the Old Gym, Annandale-on-Hudson, NY on December 13, 2008.

Tydrus the Twit
"Tydrus the Twit" is an opera/play hybrid for 6 actors and 6 musicians (cello, double bass, tenor saxophone, electric guitar, melodica, and percussion). It is about a middle-Georgia punk rocker's inability to get a job, and his bad trip through a loveless dream world filled with witches and other absurd figures. Not quite an opera or a traditional play, this piece combines spoken-word theater (e.g. Shakespeare, Tennessee Williams) with procedural music systems and musical games. Dialogue and stage directions are accompanied by a host of sounds: environmental and ambient music, songs and singing, musical gestures, noises, and more.

Running Time: 85 minutes


I wrote and directed the opera.

Premiered at The Bushwick Project for the Arts, Brooklyn, NY, on December 8 - 11, 2010.
Remounted for The Tank, New York, NY on February 3, 2011.
Bottles, Nails, and Tambourines
Bottles, Nails and Tambourines is an open-instrumentational opera consisting of three vignettes, Heaven, Earth, and Hell. Each vignette is constructed around the sound of a specific object: bottles blowing in heavenly wind, the stressful sounds of a nailgun, and tambourines rattling in hellfire. Utilizing a variety of simple musical games and procedures, the music of "Bottles, Nails, and Tambourines" is structured to allow a musical ensemble to peform independently of one another.

Produced as a staged-reading at Bard College, Annandale-on-Hudson, NY on May 19, 2009.
Tydrus
This is an album of solo material put together to promote the opera, "Tydrus the Twit." None of the music on this album appears in the stage production of "Tydrus the Twit."

1. The Wrinkler
2. Home
3. I wake up in the morning and there ain't no job.
4. Home much corn can you put up your nose?
5. Baby, Don't Cry
6. Who Knows, Anyway?
7. What You Are.
8. Parking Lot
9. Festival Music
10. life is a lie
11. There You Are!
12. Lord in Heaven
13. One Little Thought of You

You can download the album in a neat little zip file by clicking here. Includes album artwork and notes.
Who Knows What You Are, Anyway?

Orchestral Piece in Two Movements

I. Who Knows, Anyway?
II. What You Are.

Premiered May 22, 2009 by the American Symphony Orchestra in the Fisher Performing Arts Center, Annandale-on-Hudson, NY; Teresa Cheung conducting

If you would like a recording of this piece, please contact me via e-mail at zvirant [at] gmail [dot] com.
Triangle Goons

The Triangle Goons are a fun pop band from February - May 2009

1. A Centipede Story
2. At the Ocean
3. Baby, Don't Cry
4. Love at the Beach
5. Lord in Heaven
6. Everybody Thinks You're Stupid
7. In the Morning When You Wake Up
8. How much corn can you put up your nose?


Recorded on May 17, 2009 at Bard College by Tristan Shepherd
Produced by Tristan Shepherd and the Triangle Goons
Executively produced by Ted Quinlan

The Goons are:

Leslie Allison
Willy Crichton
Andrew Dieck
Mekko Harjo
Jimmy Pelizzari
Zeke Virant